The Top Benefits of Professional Window Cleaning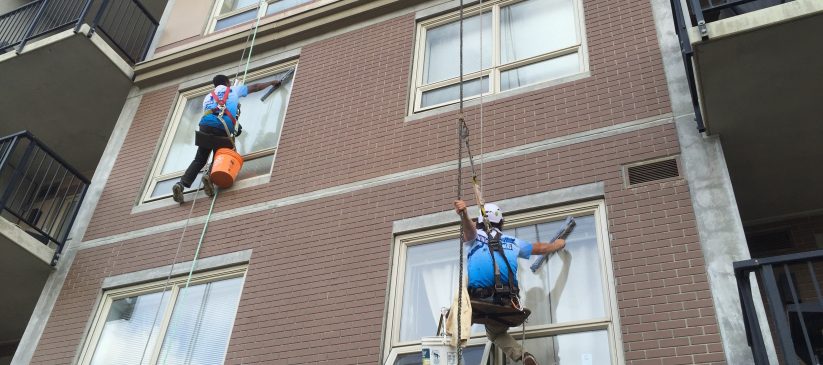 The Top Benefits of Professional Window Cleaning
Are your windows at home or work looking dirty and streaked? If that is the case, you may be tempted to get a bucket of water, sponge, and squeegee to clean the windows yourself. Sadly cleaning a window properly is a labor-intensive job. Window cleaning Edmonton has become our passion, you can trust your home to us; especially those second story windows. You only have to ask the emergency department how many home owners that window cleaning in Edmonton end up in the hospital. Getting safe, streak free glass everytime is our job, please hire a professional window cleaning service, hire Edmonton Window Cleaners. We utilize the most modern equipment from top quality squeegees to Edmonton pressure washing to clean your home and windows in no time.
Here are a few benefits of using a professional window cleaner in Edmonton.
Amp the Look of Your Home or Business
If you do not clean your windows regularly, dirt, grime, smudges, and streaks will build up over time. As a result, natural light will not filter through, making the interiors of your home or business look dull; even at worst uninviting, and gloomy. However, with the help of residential or commercial pressure washing and professional window cleaning will ensure the windows are sparkling clean. This will enable sunlight to enter your space, brightening and elevating your mood. Feel that sunshine on your face again!
Extend the Life of the Windows. Dirt, grime, and deposits left by water take a toll on your windows. The glass panes get dirty and this will distort anything you see through the windows. Dirt and water collects where the frame meets the glass, then gets saturated in water, the freeze thaw cycle begins, ice wedges in that space contracting and expanding eventually causing the seal to be compromised. This is the process of how you get moisture in between your windows! Edmonton window cleaning is not just nice so you can have clean glass but it is essential for the longevity of your windows. So, when you choose professional window cleaning, it minimizes the buildup of dirt and grime, extending the life of your windows! Call Edmonton Window Cleaners at 7803409274 today.
Improve the Efficiency of Your Windows
Its true. When you do not clean the windows regularly, it can result in leaks, condensation, and fogging. This can also lead to mold and mildew formation and when the seal is gone it increases the cost of heating and cooling your home or business, it all counts. Not to mention that mold and mildew can also contribute to poor indoor air quality. With Edmonton power washing and at Edmonton Window Cleaners our professional window cleaners will be able to find out issues with your windows and bring them to your attention so that you can take remedial measures before the problem gets bigger and more expensive to fix.
Effective Window Cleaning
Please trust us: the truth is that professional window washers have the knowledge and experience to do the job right the first time around. They have the right equipment and know how to use it effectively so that your windows end up being sparkling clean, without streaks, something that, sadly you may know from experience, will be near to impossible to achieve if you clean them yourself. same can be true of pressure washing Edmonton too. Power washing Edmonton uses the best professional equipment producing exceptional results. When you get your windows cleaned professionally, you will not have to spend your free time on weekends doing it yourself. That will leave you with more free time, and you can focus on more important things, like staying out of the emergency ward.